Quick Italian Pasta Salad Recipe
We prepare 7 pasta salad recipes for a week! They are Crab Stick Pasta Salad, Tuna Pasta Salad, Italian Pasta Salad, Green Goddess Pasta Salad, Shrimp Salad Pasta with Oil and Vinegar Sauce, Chipotle Chicken Pasta Salad, and Broccoli Pasta Salad. All easy to make at home!
Pasta salad can be shown at your picnic, party, or BBQ. It is a good partner or main dish of your meal. Summer can't be complete without a picnic or cookout comprising perfectly enjoyable cold Italian pasta salad.
Italian Pasta Salad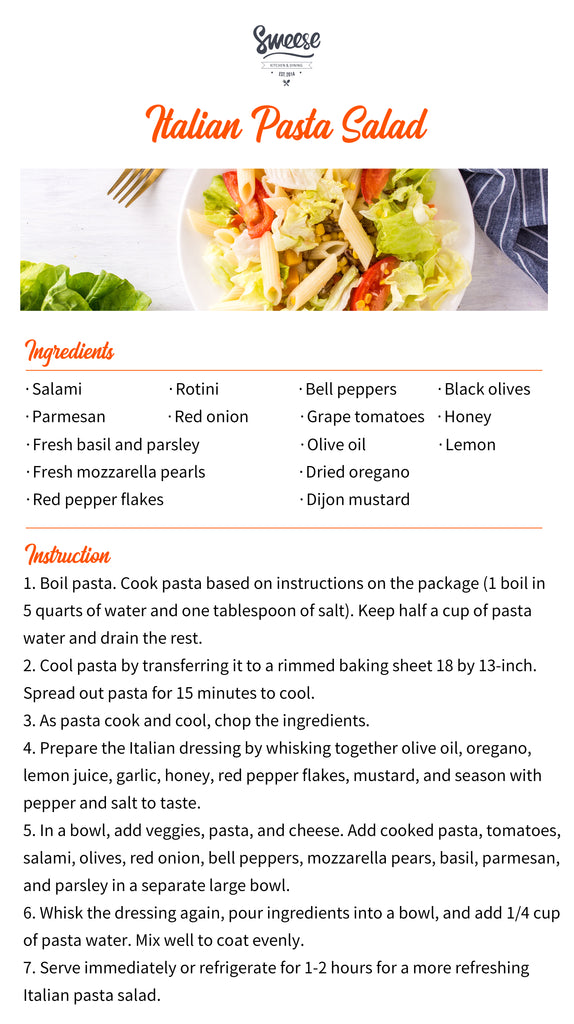 Before you make the perfect salad pasta, choose a perfect pasta bowl to complement it! Sweese Porcelain Salad Pasta Bowl  has you covered. It is well-shaped and made of high-quality porcelain for a wide variety of uses, stackable and easy to clean, bringing you a good life experience.
Shop link: Porcelain Salad Pasta Bowls
Apply discount code SALAD to get 15% OFF for any items
You might also want to know...
Should pasta salad be warm or cold?
Salad pasta is best at room temperature with all ingredients mixed together. After mixing you can put it in the refrigerator for a while to cool for a different flavor.
Should I put a dressing on pasta salad the night before?
Yes, adding the salad dressing in advance will allow the ingredients to fully absorb the flavor of the sauce. If you feel that the flavor is not enough when you eat it, you can add the dressing again.
Can I add other ingredients to the Italian pasta salad?
Yes, you can adjust the amount and type of ingredients according to your taste.
Can I Make the Pasta Salad in Advance?
Yes, you may prepare these pasta salad dishes in advance. For the flavors to mingle, I suggest cooking them a day in advance.
Can I freeze pasta salad?
Pasta salad is a great option to take to a picnic. Yes you can, you can make the salad ahead and freeze it.
---