Easy Shrimp Salad Pasta with Oil and Vinegar Sauce
We prepare 7 pasta salad recipes for a week! They are Crab Stick Pasta Salad, Tuna Pasta Salad, Italian Pasta Salad, Green Goddess Pasta Salad, Shrimp Salad Pasta with Oil and Vinegar Sauce, Chipotle Chicken Pasta Salad, and Broccoli Pasta Salad. All easy to make at home!
Shrimp Salad Pasta with Oil and Vinegar Sauce is a perfect summer dish. It's light, refreshing, and can be made ahead of time. Made with cooked shrimp, celery, onion, dill pickles, and a simple oil and vinegar sauce, it's perfect for a light lunch or as a side dish at a cookout.
Shrimp Salad Pasta with Oil and Vinegar Sauce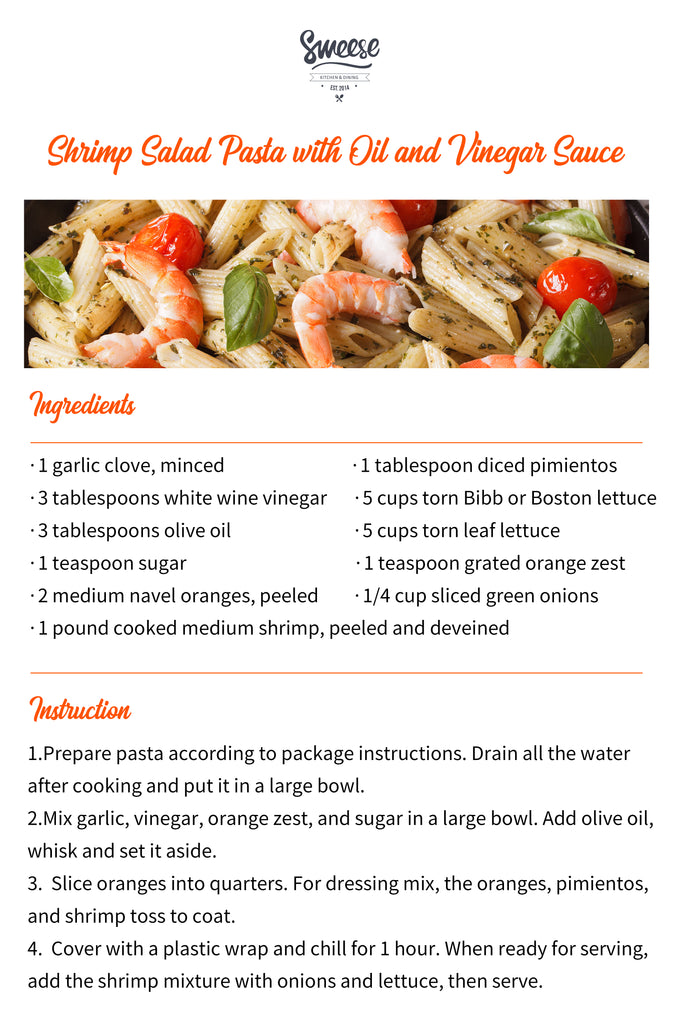 Before you make the perfect salad pasta, choose a perfect pasta bowl to complement it! Sweese Porcelain Salad Pasta Bowl has you covered. It is well-shaped and made of high-quality porcelain for a wide variety of uses, stackable and easy to clean, bringing you a good life experience.
Shop link: Porcelain Salad Pasta Bowls
Apply discount code PLATE to get 15% OFF for any items
You might also want to know...
Is olive oil healthy or not?
Olive oil would almost probably be the finest option if oil were to be employed in the fight against fat. Monounsaturated fatty acids (MUFA), the cornerstone of the well-known Mediterranean diet, are abundant in olive oil.

Can I eat shrimp every day?
Adults can eat two to three servings (8 to 12 ounces) of shellfish or shrimp each week, according to research. As a result, it's essential to carefully cook the shrimp and steer clear of serving it raw, as in sushi or sashimi. helpful article for you.

Can I put other ingredients in this salad pasta?
Sure, you can adjust the ingredients according to your liking, but remember to be careful not to put foods you are allergic to.

Can I Make the Pasta Salad in Advance?
Yes, these pasta salad recipes are perfect for making ahead of time. I recommend making them a day early to allow the flavors to meld together.
More helpful article for you
The Best Crab Stick Pasta Salad Recipe
---