Delicious Chipotle Chicken Pasta Salad Recipe
We prepare 7 pasta salad recipes for a week! They are Crab Stick Pasta Salad, Tuna Pasta Salad, Italian Pasta Salad, Green Goddess Pasta Salad, Shrimp Salad Pasta with Oil and Vinegar Sauce, Chipotle Chicken Pasta Salad, and Broccoli Pasta Salad. All easy to make at home!
Chipotle Chicken Pasta Salad is a flavorful, filling, and easy-to-make ahead-of-time meal that is perfect for picnics, potlucks, and BBQs! It can be served cold or at room temperature, making it ideal for summertime gatherings. The chipotle peppers give the chicken a smoky flavor that is perfectly balanced by the corn's sweetness and the avocado's creaminess.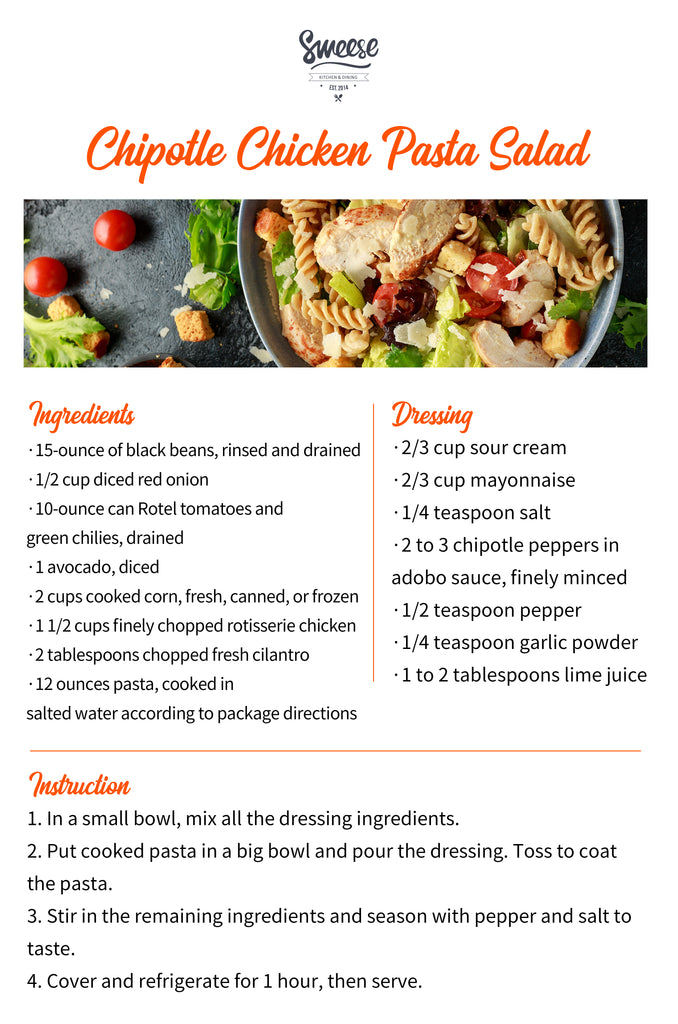 Before you make the perfect salad pasta, choose a perfect pasta bowl to complement it! Sweese Porcelain Salad Pasta Bowl has you covered. It is well-shaped and made of high-quality porcelain for a wide variety of uses, stackable and easy to clean, bringing you a good life experience.
You might also want to know...
What is Chipotle's chicken made of?
Chipotle chili powder, combined with chili powder, cumin, smoked paprika, garlic, and onion powder, gives the Chipotle Chicken a smokey heat.
Is Chipotle's chicken healthy?
A healthier choice is chicken, which has a whopping 32 grams of protein per serving and almost half the fat of carnitas (1). Limit high-calorie toppings like cheese, sour cream, queso, and guacamole if you're attempting to lose weight.
How To Store the Salad Pasta?
The salad will last 3-4 days in an airtight container in the fridge. However, this depends on the ingredients inside your salad pasta. The salad will not last if you have any dairy products in the salad. And be careful with the salad pasta with meat inside.
Can I Make the Pasta Salad in Advance?
Yes, these pasta salad recipes are perfect for making ahead of time. I recommend making them a day early to allow the flavors to meld together.
More helpful article for you
The Best Crab Stick Pasta Salad Recipe
---