Easy Broccoli Pasta Salad Recipe
We prepare 7 pasta salad recipes for a week! They are Crab Stick Pasta Salad, Tuna Pasta Salad, Italian Pasta Salad, Green Goddess Pasta Salad, Shrimp Salad Pasta with Oil and Vinegar Sauce, Chipotle Chicken Pasta Salad, and Broccoli Pasta Salad. All easy to make at home!
This Broccoli Pasta Salad is a perfect pasta salad for lunch. It's packed with fiber and protein from broccoli and chickpeas, and the whole wheat pasta provides complex carbs to satisfy you. The dressing is a simple combination of olive oil, lemon juice, and garlic, which gives the salad light and refreshing flavor.
Broccoli Pasta Salad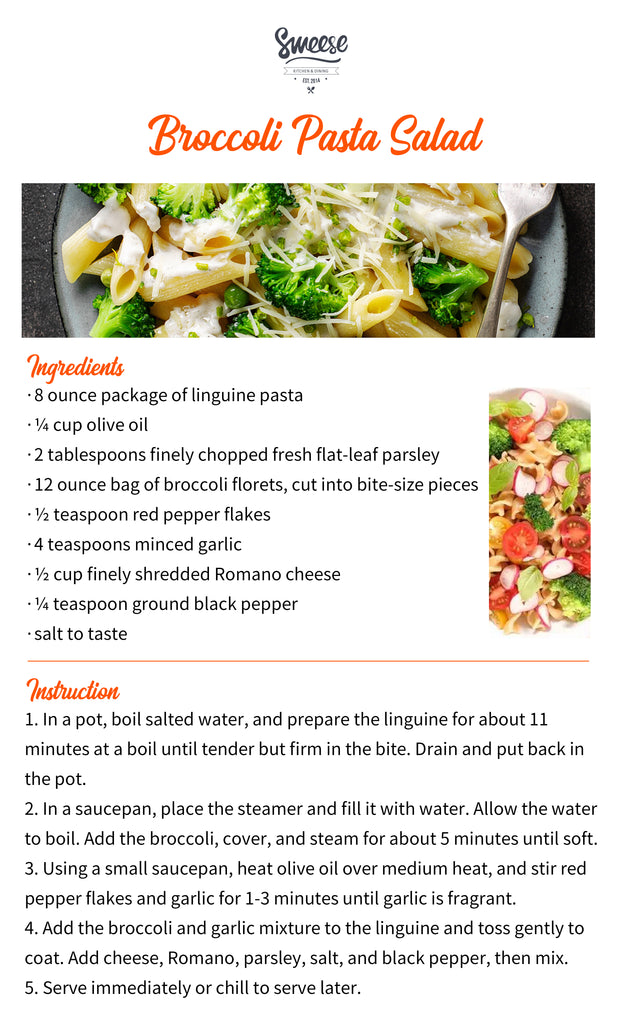 Before you make the perfect salad pasta, choose a perfect pasta bowl to complement it! Sweese Porcelain Salad Pasta Bowl  has you covered. It is well-shaped and made of high-quality porcelain for a wide variety of uses, stackable and easy to clean, bringing you a good life experience.
Shop link: Porcelain Salad Pasta Bowls
Apply discount code SWEESE15 to get 15% OFF for any items
You might also want to know...
How does broccoli help the body?
A nutrient-rich food like broccoli may benefit your health in a number of ways, including by lowering inflammation, regulating blood sugar better, increasing immunity, and enhancing heart health.
Can broccoli be eaten raw?
Yes, you can eat broccoli raw, but it may not taste as good as cooked broccoli, especially if you don't like it too tough.
Can I put another vegetable inside?
Sure, you can adjust the type and quantity according to your own taste.
How To Store the Salad Pasta?
The salad will last 3-4 days in an airtight container in the fridge. However, this depends on the ingredients inside your salad pasta. The salad will not last if you have any dairy products in the salad.
---