Vegan and Delicious Green Goddess Pasta Salad Recipe
We prepare 7 pasta salad recipes for a week! They are Crab Stick Pasta Salad, Tuna Pasta Salad, Italian Pasta Salad, Green Goddess Pasta Salad, Shrimp Salad Pasta with Oil and Vinegar Sauce, Chipotle Chicken Pasta Salad, and Broccoli Pasta Salad. All easy to make at home!
The Green Goddess Pasta Salad is prepared with nourishing ingredients that blend in minutes. Is it allergy-friendly and vegan, making it the perfect recipe for light lunches and appetizers?
Green Goddess Pasta Salad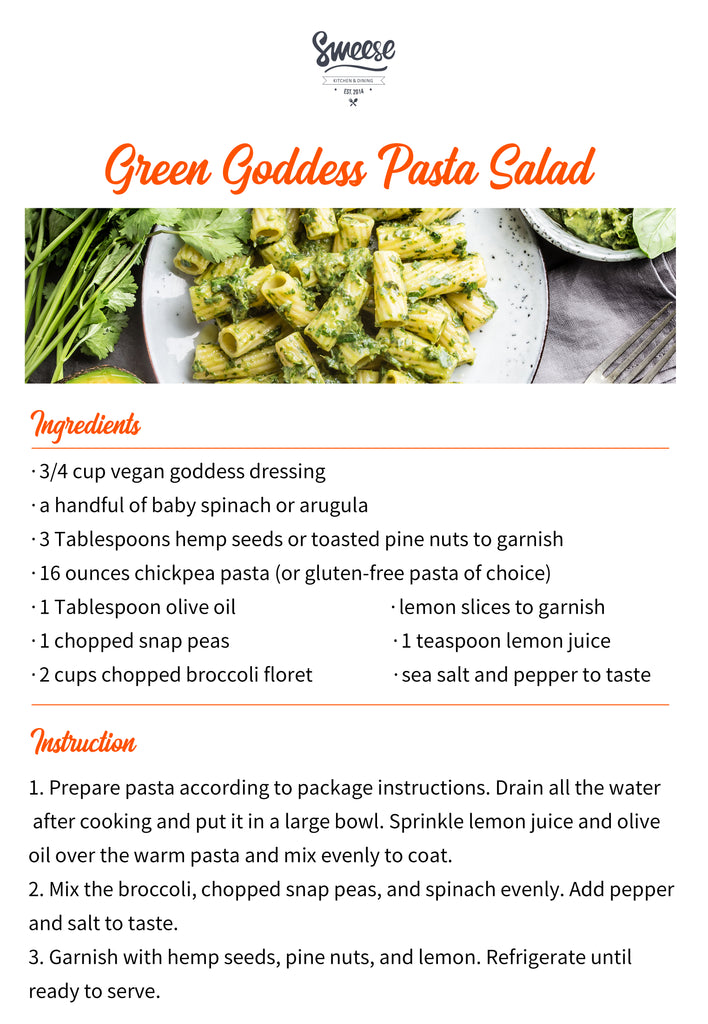 Before you make the perfect salad pasta, choose a perfect pasta bowl to complement it! Sweese Porcelain Salad Pasta Bowl  has you covered. It is well-shaped and made of high-quality porcelain for a wide variety of uses, stackable and easy to clean, bringing you a good life experience.
Shop link: Porcelain Salad Pasta Bowls
Apply discount code SALAD15 to get 15% OFF
You might also want to know...
What is vegan Green Goddess Dressing made of?
In today's vegan version of the classic green goddess, mayonnaise and dairy products aren't used, yet the dish nevertheless manages to be creamy and herbaceous.
How To Store the Salad Pasta?
The salad will last 3-4 days in an airtight container in the fridge. However, this depends on the ingredients inside your salad pasta. The salad will not last if you have any dairy products in the salad.
Can I put other ingredients in this salad pasta?
Sure, you can adjust the ingredients according to your liking.

Is Chickpea Pasta better for me?
Because it has more fiber, protein, vitamins, and minerals than white pasta, chickpea pasta is a healthier option. The majority of varieties are also suited for gluten-free diets. Its fiber and protein may help with weight maintenance, gastrointestinal health, blood sugar control, and a lower chance of developing a number of diseases.
More helpful article for you
Classic Tuna Pasta Salad Recipe
Quick Italian Pasta Salad Recipe
---